Pregnancy is a pretty big change for a lot of women.
But, do they know exactly what to do? With information coming at them from every direction, they end up 
feeling confused and scared.
So, we came up with a seamless solution using Amazon's Echo or Dot. Bump, the Alexa skill that can be downloaded onto any Echo or 
Dot, uses voice technology to induce healthy lifestyle changes and makes it easier for pregnant women to input information. My primary role was collaborative at all 
stages. Since I had the most design experience, I was in charge of leading the team in the right direction and designing the entire companion application on Figma.
Market Research and Literature Review
To get a better sense of the issues pregnant women face, we searched online for current technology that tried to yield the same effect of a healthy pregnancy and 
postpartum. The main interactive applications include: mobile apps, web apps and Alexa skills. After reviewing the current solutions in the market, we aimed to 
incorporate the pros and improve the cons found in most of the designs. We found that most applications do a good job in using credible sources, tracking 
information and personalizing the feedback to users. However, one common problem of the current solutions is time-consumption, as they put too much of a 
burden on users when requesting information input. Additionally, there is a clutter of information which results in relevant information being lost.

While taking a look at the current market, voice-based technologies caught our eye. Here was a new and innovative approach to attack our problem! We believed it 
could attack the cons without compromising on the pros. To substantiate our claims, we conducted a literature survey and stumbled upon a variety of papers 
regarding speech recognition and voice-based technology. We discovered that voice-based technology has broad applications, the interaction saves time and 
relieves burden from users. Overall, the user experience is easier and more efficient. However, foreign users might encounter challenges due to accents. An elegant 
solution to this could be an implementation of different accents based on user - similar to what Google Maps did for their navigation.
User Research and Expert Interviews 
Pregnant women and experts in the field are the most important stakeholders so, we chose to gain insights from them. We conducted a focus group on five middle-
class, educated pregnant women and new mothers. They were aged 35-40 and were used to technology (e.g smartphones, internet). The results we found were the 
following:

∙The biggest concern during pregnancy is to control weight: 
Both stay-at-home mothers and working professionals mentioned that it is hard to juggle with 
exercise 
and proper nutrition with their busy schedules.
∙Online tools are overwhelming and not helpful:
Though most of the women went to frequent check-up appointments with doctors and considered these as the 
most credible information source, they also wanted flexible tools that they could refer to in their daily life or when they need quick solutions. Apart from  
information 
on the web being inordinate, they found it misleading, confusing and contradictory.
To get a better understanding of the issue from the perspective of experts, we spoke to three Cornell professors from the department of nutritional sciences: Dr 
Kathleen Rasmussen, Dr. Rebecca Stoltzfus and Dr. Christine Olson. We asked them about their research, overall status of maternal health in the US, any edge cases 
they had encountered during their research and the best times to intervene for pregnancy related complications. Their insights gave us information regarding 
common pregnancy myths, the behavior of pregnant women and their food related needs.
Persona and Goal Development
After conducting research, we had a solid idea about our target users. So, we started developing personas. The results we got from the secondary research and the 
primary research informed the goals of our design. We summarized our goals into the following two personas that are the representation of the users that we want 
to target. 
∙Primary Persona: 
Jenny, 28-year-old, in her second trimester, full-time housewife.
∙Secondary Persona:
Cathy, 32-year-old, working professional as a sales manager, a new mother of a three-month-old baby.
Both personas were married, came from middle class families and lived in suburban areas. They didn't eat very healthy food and exercised less out of habit. They also 
worried about gaining weight during their pregnancy. However, while Jenny is having a baby for the first time, Cathy isn't. Further, Jenny doesn't work apart from 
being a part-time baby sitter while Cathy has a full-time job.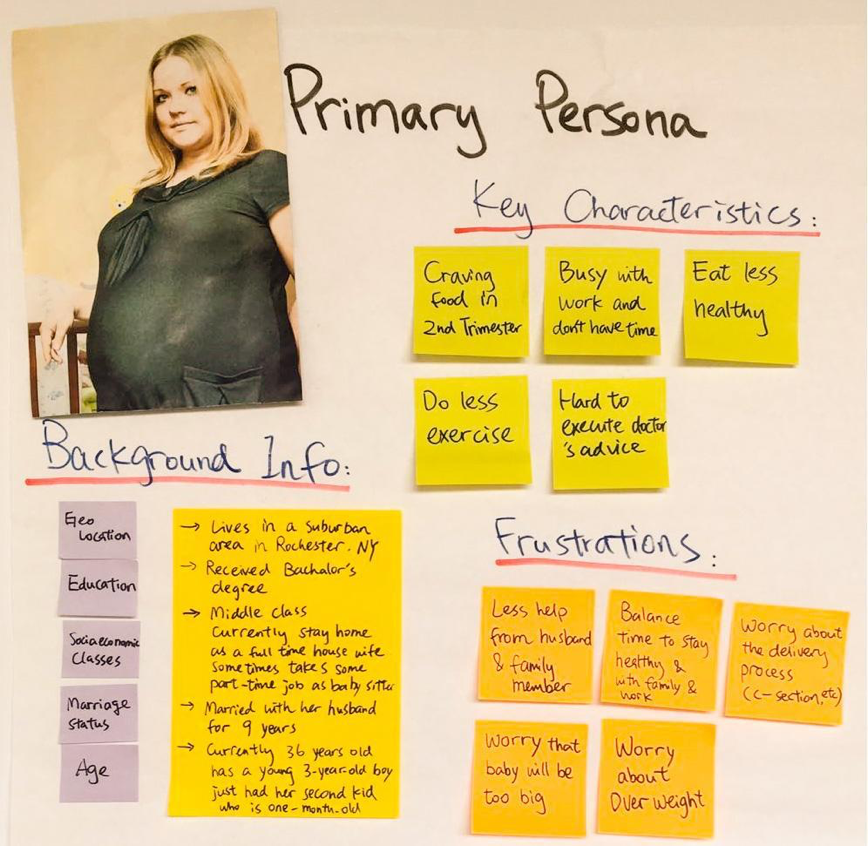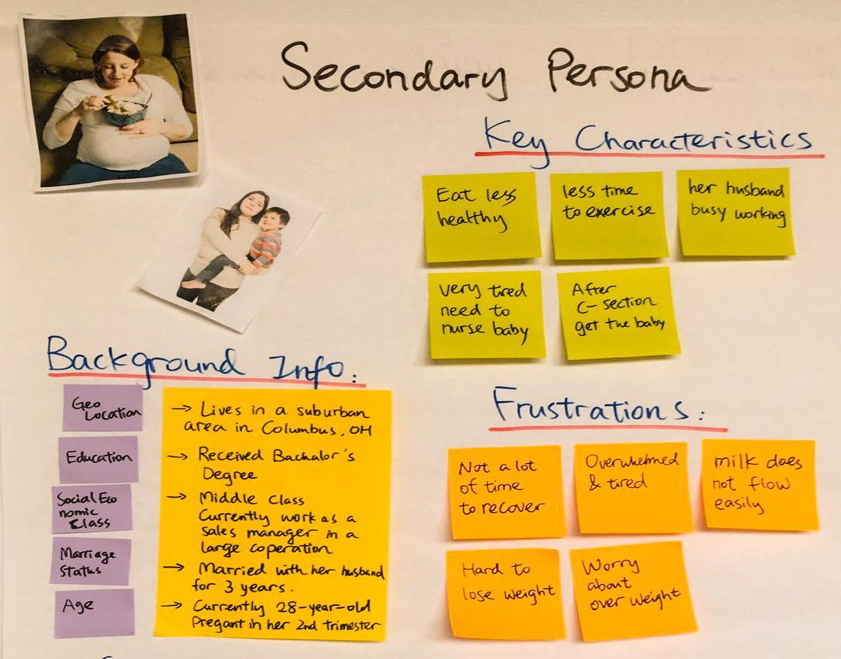 Based on the interviews and personas, we set up three different goals for the design:
∙Life Goals (What they want to achieve in the long term):
Have a healthy pregnancy by managing weight, exercising more and balancing work and family life 
better.
∙End goals (What they want to achieve while using the system):
Manage weight and stress by exercising while being able to indulge in cravings, smooth delivery 
process, understand what exercises can be done during pregnancy and which of those are beneficial to self during pregnancy, gain access to trustworthy and 
verified 
information regarding all aspects of pregnancy.
∙Experience goals (What they wish to experience and feel during their interaction with the system):
Understood, supported, confident, calm, in control of 
their 
pregnancy and good about their body.
After developing the personas and the goals, we decided to ideate for solutions. So, during one team meeting, each of us came up with 25 possible solutions on 
post-it notes that would address the issues and satisfy the personas as well as their goals. We found that the 100 ideas could be broadly defined into two major 
clusters, one for physical health and the other for mental health, namely Exercise/Nutrition and Relationships/Balance of Time.
In order to filter out two of our favorite ideas, each teammate voted for ten of their favorite ideas. The ten ideas with the most votes proceeded to the next round. 
Then, each teammate voted again for two of their favorite ideas. The two ideas with the most votes were:
∙Alexa based pregnancy companion/coach system
∙Widget extension to show credible information on the web
We decided to go with the Alexa based pregnancy companion because we believed that it had the capacity to be more than just an information hub. Further, based 
on our research, voice interactions seemed more seamless than traditional applications.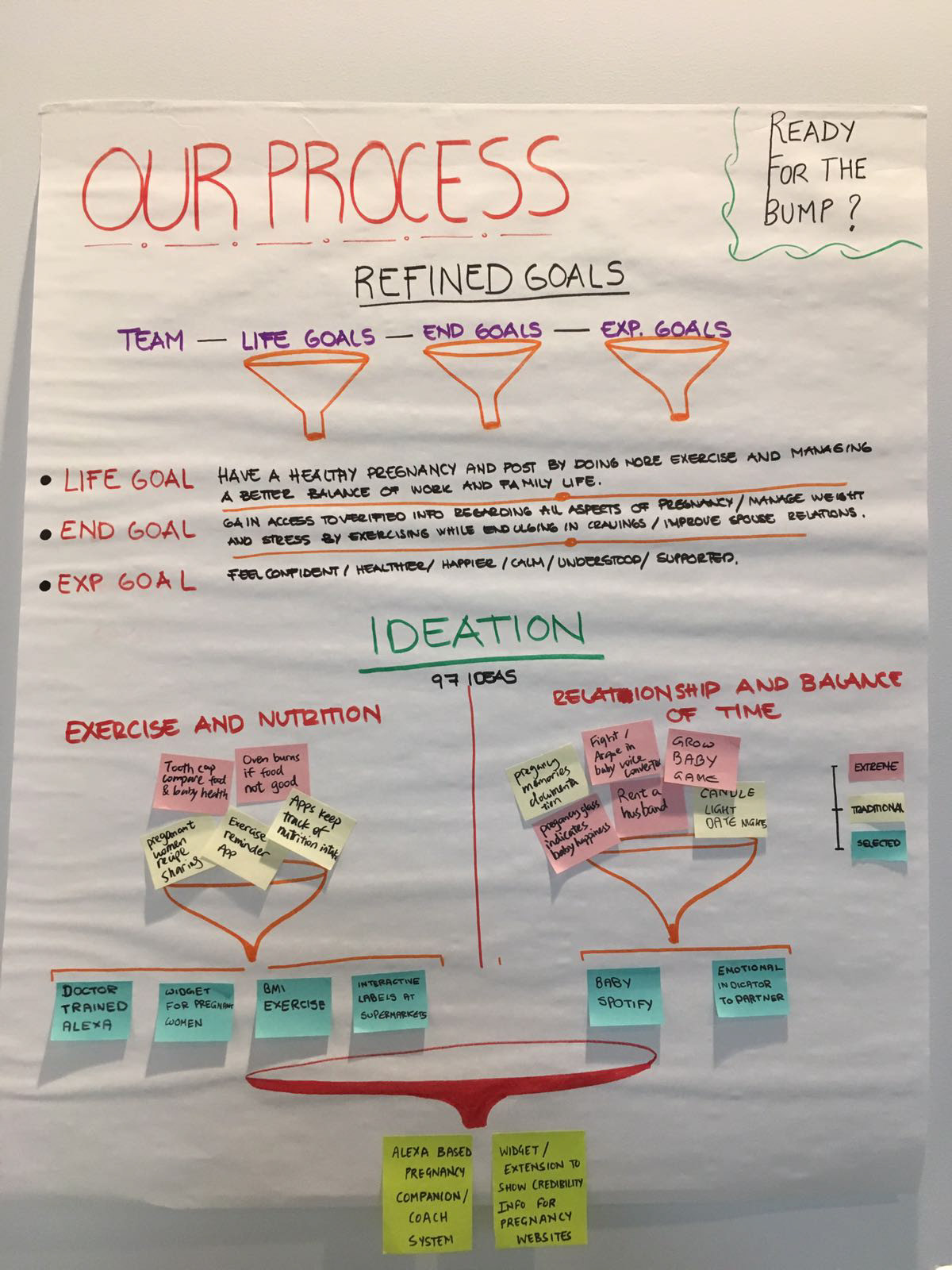 Design and Medium Fidelity Prototyping
Based on the interview and ideation results along with the persona goals, we narrowed down four main features for our Alexa based design called Bump, which are:
To activate each of these features, it would be essential to provide a voice based input to Bump. On the other hand, the output could be either voice, text or email 
depending on the scenario. For instance, if a user asked Bump to add a reminder, Bump could respond back with 'Reminder added'. However, if the user asks for 
restaurant suggestions, it would be easier if Bump could send a text for the user to read. Hence, if the output has a large amount of information, text or email 
outputs are more suitable.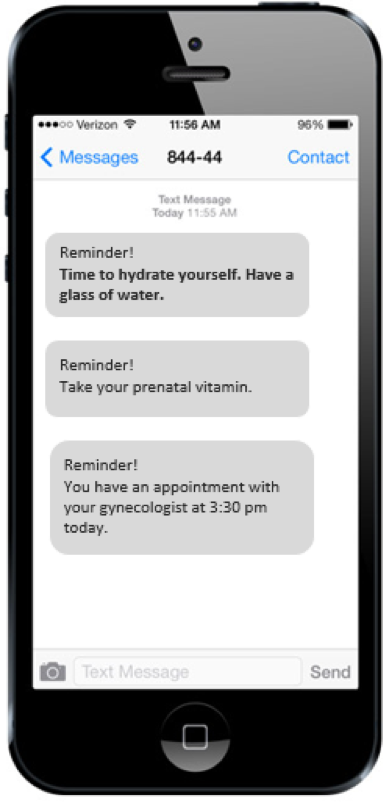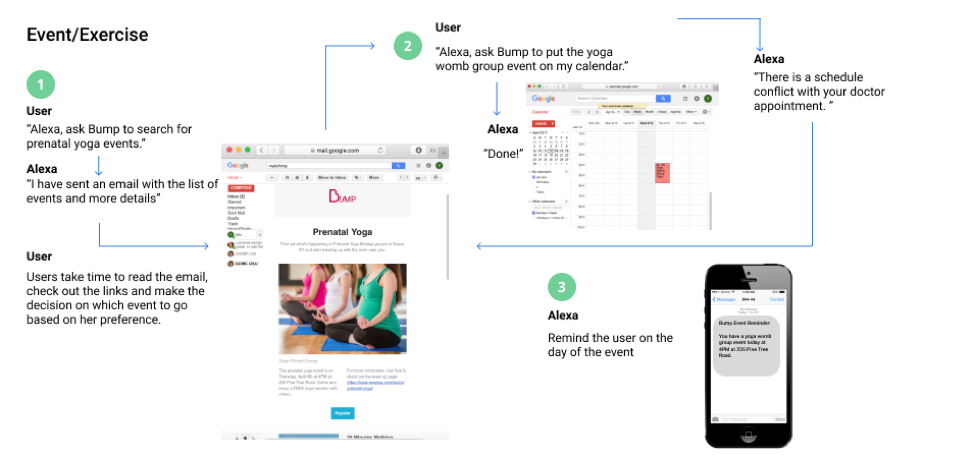 To test our design, we conducted a preliminary usability test among our initial interviewees. While they loved the variety of outputs and ease of the verbal input, 
they felt that mood tracking was an unnecessary feature. They were also concerned that the verbal interactions may be too simple as real-life conversations 
are complicated.
So, during the second iteration, we incorporated user feedback and mapped the following inputs to a corresponding output.
∙Weight tracking: 
Text output for BMI and range
∙Reminders: 
Text output for water/vitamin reminders
∙Ordering food: 
Text output for shopping list, verbal output for food suggestions
∙Events and exercises:
Text or email output for top five events/exercise videos
As majority of the participants prefer a text output for most of the functions, we decided to create an application interface to compliment the participants' verbal 
interactions with Bump. Hence, in the second design iteration, our main focus was to narrow down the functionalities of the design and drill down to solve the 
overweight problem while incorporating the application in the user experience. I was primarily responsible for the application's design and look as my other 
teammates had very little experience with design. I used Figma to create the visual design as most of my teammates didn't have Sketch or Illustrator on their laptops. 
Figma seemed like a better fit as it was on the web and could be accessed by all.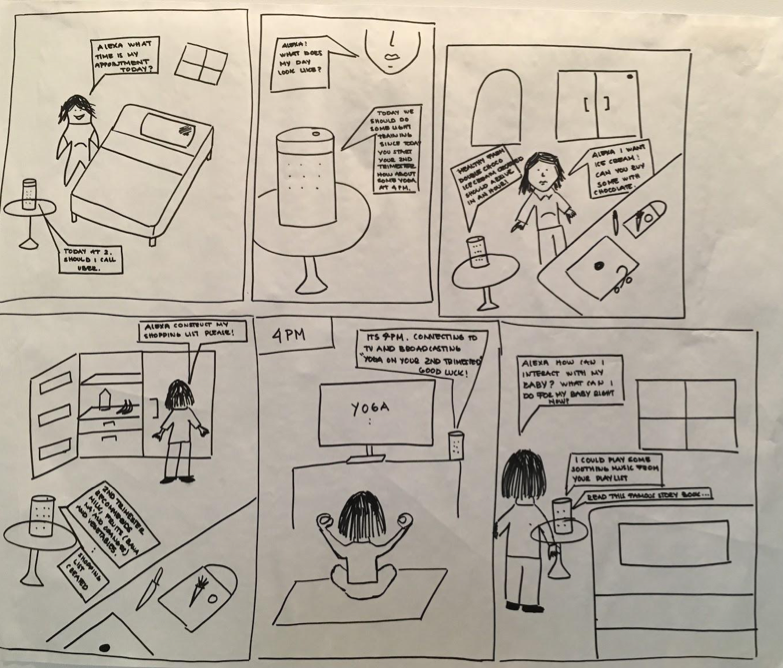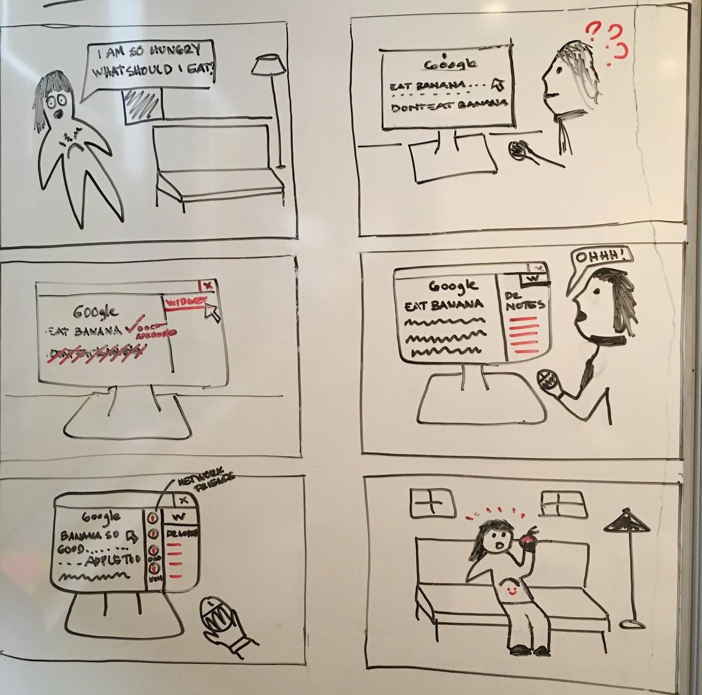 During the second preliminary usability testing, the users really enjoyed the clear flow of the voice interaction. However, I had chosen a deep purple to 
avoid traditional pink and blue colors and hence, make the application gender neutral. But, users found the color palette extremely dull. Hence, during the third 
revision of the design, I incorporated bright colors in the palette for branding purposes and to click with users instantly.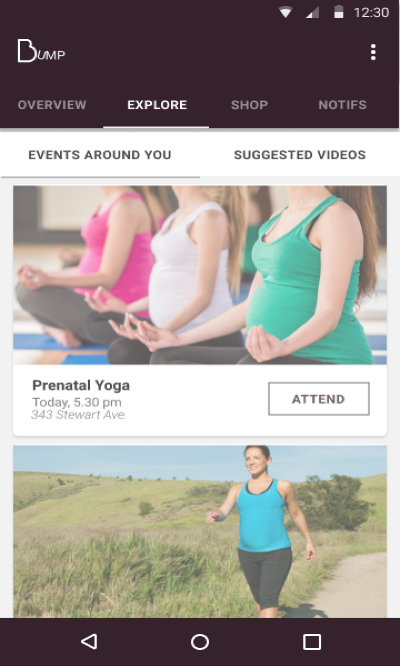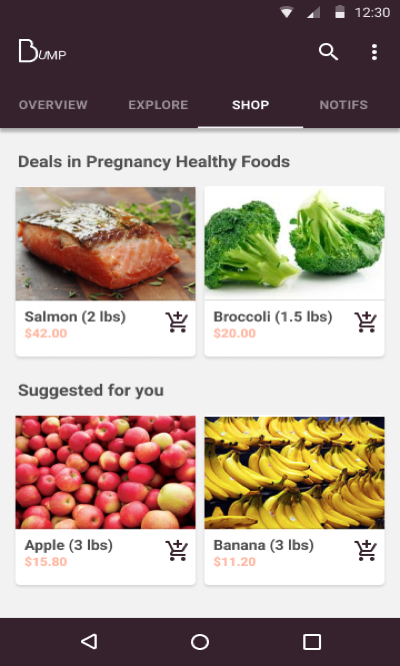 Final Prototype and User Evaluation
After two rounds of design iteration and modification after the final evaluation, our final design included:
∙Alexa Echo and Dot prototype
The design creates an efficient user experience that reduces a significant amount of time while users interact with the system. The system will only provide the 
most relevant information upon users' requests. It incorporated a new, fresh look along with changes from the previous design iterations. All the designs were 
created on Figma. After the visuals of the companion application were finalized, I worked on the Invision prototype to define the flow of the application
For the final evaluation, there were two parts: the timing evaluation for the voice-based input and the high fidelity prototype evaluation. For the timing evaluation, 
we used the Wizard of Oz technique. A phone was kept in a paper prototype of Alexa Echo. So, one of our teammates would call it and speak as if it were Alexa's 
voice coming from the prototype. The user would be given certain tasks to complete that would require having a conversation with Alexa to 'ask Bump'. Each task 
would have two parts: typing and then, talking to Alexa. The user would then be asked to compare both experiences. Overall, the time required to either type or 
interact by voice was distinct. These tests proved we were providing a less time consuming solution. Coupled with the fact it's hands free, it's a much faster, 
smoother and less invasive interaction.


For the high fidelity evaluation, we targeted a similar Wizard of Oz approach but, with the Invision prototype by the side as well. We found that users liked the 
overall design of the application. Colors and fonts were appealing and they provided a good sense of what our product was about. On another hand, interaction 
seemed to cause a bit of trouble as our users seemed to require more instructions and needed better error handling messages.



While the final evaluation seemed promising, one of our major concerns was that most of our testers during the final evaluation were not pregnant women. Since 
the team was based in a college campus, gaining access to pregnant women proved to be extremely difficult. So, we tested the application on women and design 
students on campus.
Overall, our design proved to give users an easy to use system that would help them manage their weight and health through a series of features. Through various 
iterations of the overall look and feel as well as the provided features, we were able to pinpoint those that would have the most effect on retaining users and 
providing results. In the future iterations, we would look into possible upgrades like:
∙Improving Alexa's ability to handle different accents
∙Test on more pregnant women
∙Iterations with Echo Camera